What are Bengals?
Genetics – Where did Bengals come from?
First and foremost – today a Bengal is a domestic cat. It's name is derived from the scientific name of the Asian Leopard Cat from whom it was developed, Prionailurus Bengalensis. Humans have always been intrigued by the wild cats in the jungles of the world. In 1963 Jean Mill crossed the domestic cat with an Asian Leopard cat or ALC, a spotted, small, shy, wild cat found in the Asian jungles.
This was the first attempt to use hybrid offspring to create a breed of domestic cat with the loving nature of  a house cat and the gorgeous look of leopards, ocelots, and Jaguars. Today's Bengal cat traces back to cats bred by Jean Mill starting in early 1963 and going through 1980. Although some geneticists tried breeding wild cats with domestic cats prior to Jean's work, none were successful.
Will my Bengal act wild?
Bengals carry traits from their wild ancestry depending on how far removed they are from the ALC. The hybrid kittens are known as Foundation cats (F1, F2, F3, F4). They are not eligible for show and only the females are used for breeding as the males are infertile. By F4, a kitten no longer has wild blood of the ALC, and so it is accepted as a domestic Bengal cat and can be shown. They were accepted as a new breed by TICA, or The International Cat Association in 1986 and gained championship status in 1991. Breeders have successfully created a docile, friendly house cat that looks like a wild jungle cat! The Bengal cat will show you a few acceptable characteristics from the ALC; wanting to climb wherever it can be up high and their love of water. Today the Bengal cat is the most popular cat ever registered in TICA. .
How big will my Bengal get and how long will he live?
The domestic Bengal today is a medium to large sized cat, essentially no larger than most other domestic breeds of cats. Neutered/spayed cats will be larger than unaltered cats. They live between 15 – 20 years barring any specific health problems. They can get any diseases other domestic cats get, although they are resistant to feline leukemia due to the fact the Asian Leopard cat does not get leukemia – the subject of many studies.
Are they hypoallergenic?
Bengals are very hypoallergenic. The levels of pet dander that cause allergic reactions to humans is very low. Many individuals come to visit us to test their allergy to the cats. We have found 98% of people that are allergic to other cats are not allergic to the Bengals. That leaves a good 2% that are allergic, sadly. We gave our own daughter a Bengal kitten. A week later she called, barely able to talk, to say, "Dad, I don't think I can keep the kitten. I can hardly breathe from my allergy to it." Sad, but a fact of life.
Will my Bengal Shed?
A very nice feature of the Bengal is their fur isn't just hair, but is a pelt like a wild jungle cat. It is dense and unlikely to shed like the ALC versus the shedding properties of many domestic cats. You will not find hair on your clothes or furniture. Yea!
I've heard Bengals are smart. Are they?
They are very intelligent. They will shock you with the things they do to show their "smarts" to you. Our Bengals always surprise us with new actions that show their intelligence. Sassy, who use to be one of our queens, was housed in her own bedroom with her six new kittens. I let her out of her room for a break most afternoons and after a fun time in the main house I said to her, "Sassy, it's time to go back to your room, go back to your room now." And with never an argument, she turned around and walked directly into her bedroom!
We had a cat that loved to fetch. We would throw that ball over and over to please her. Interestingly, however, if we threw the green ball, she would not fetch it. And if we threw the yellow ball, she would ignore it. Only when we threw the red ball would she grab it and race it back to us!
Because of their intelligence, they are easily trained. Usually telling them "NO!" will stop them from repeating the action. A good way to train them off the kitchen counter. They actually learn words and commands and follow directions. When I walk into a room with a queen that has kittens secluded in one part of the room, and I say very exuberantly, "Tubby, where are your babies? I'd like to see your babies!" She immediately takes me to them. I praise her and tell her how beautiful they are.
I bred an F1 hybrid queen once to get some wild looking F2 kittens. So many breeders told me, "Do not go near her birthing area or she may get so upset she will kill the kittens." And so, as eager as I was to see the new kittens, I stayed away and did not bother her for 3 days. On the fourth day after the kittens were born, she kept coming to me, meowing. It didn't take me long to realize she wanted me to see her kittens. I let her lead me to her birthing area and exclaimed gleefully, "Katie! There are your babies, your beautiful babies! She literally pranced around yipping. I felt so privileged and was touched so incredibly that Katie trusted me with her kittens.
What else can you tell me about Bengal cats?
Bengals are known for their fabulous coats. The fur is thick and luxurious and feels soft and silky. Bengals can have two different patterns in their fur; spotted or marbled. Spotted pattern speaks for itself, however, Bengals are the only domestic cat that can also have "rosettes" for spots like leopards, jaguars, and ocelots. Rosettes are spots that are lighter color on the inside trimmed with a darker version of the color around the outside. Some Bengals have "glitter," where areas of the coat sparkles in the sunlight due to the hairshaft absorbing the sunlight.. It is very beautiful. The Bengal coat is easy to care for. Usually the cat will take care of all it's own grooming needs, however, it may be irresistible to brush them a bit for fun.
Bengals love to play in water, just like their ancestor, the ALC. The ALC lives in and around water and is often called the "fishing cat". Bengals will play with balls in a bathtub filled with 1" of water, they will drink from faucets, and prefer fresh running water. A small fountain does the job.
Snow Bengals
Once breeders had the domestic Bengal, they began to think, like all good breeders do, "Oh, what can I make with this cat that will be a bit different?" So they bred them with Siamese cats and some other breeds of cats. The Siamese/Bengal hybridization produced a white Bengal called the Snow Bengal. As they bred different colored Bengals with the Siamese, they began to get a variety of colors in the Snow Bengals. One breeder bred a Burmese cat into the line to get the seal-point coloring that you will see on some snow Bengals, Currently, there are three recognized colors of the snow Bengal. Sometimes it is difficult to tell what color the snow is and the best way to find out is to do a genetic test to find out exactly what genes the cat carries.
One of the recognized colors of snows is the seal lynx snow Bengal. This Bengal has the lightest base coat of the three; being a light off-white color, and their eyes are always blue. The markings on the seal lynx snow Bengal are light or dark. Their tail tip is a dark brown seal tip. Bengal coats are all about contrast, so this cat can be very stunning if they have dark seal markings over a light coat. Here is our seal lynx snow girl, Moonglow, with bright blue eyes and tan markings.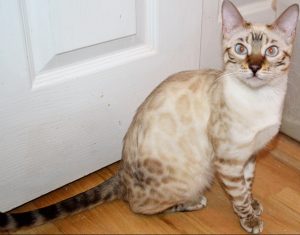 What is a Seal Mink Snow Bengal?
Markings of the seal mink snow Bengal can be light or dark tan seal markings. The tip of the tail is a dark seal-brown. The coat is lighter than the seal lynx snow Bengal. It ranges from ivory or cream to a light tan. Their eyes can be blue, but most generally are aqua. When looking for maximum contrast you want to choose a light base coat with dark markings.
Then there is the seal sepia snow Bengal cat. The coat of the seal sepia snow Bengal is very much like the coat of the mink snow. One of the most distinct differences from the other snows is the seal sepia has gold or green eyes. It is the only snow Bengal that does not have blue eyes.
Their markings range from light sepia to dark sepia and their tail tip is a dark seal brown. As with the other snow Bengals it is preferred to have one with high contrast between the base coat and the markings.
Patterns in Snow Bengals
We know Bengals have either spotted or marbled patterns. Spotted Bengals can have single-spotted patterns. It means a Bengal that has spots all one color, over their entire body. This pattern is accepted in show, but not preferred. Two toned spots called "rosettes" are preferred. They are a solid color inside the spot with a dark color outlining it.
Arrowhead spots are highly sought after. They are triangular rosettes where the pointed part goes toward the tail. These spots are rare, but striking. There also are pawprint spots. These spots are medium colors that form a spot, but have smaller spots in a darker color that outline the original spot and causes it to resemble a pawprint.
Marbled coats can be most beautiful. There are different names depending the shape of the spot. A Bengal expert is able to identify these markings. Learning about Bengal cats is so fascinating. Once you think you got it all down, they change through breeding efforts, change of standards, or creation of brand new features.
To read about our Snow Bengal program, click here to get to the page.
All About Bengal Kittens
Bengal kittens, between the age of 5 weeks and 4 months are usually in a "gray, fuzzy" stage of development – just as young cheetahs go through a period with long, ugly, covering fur. It's Mother Nature's way of camouflaging the beautiful coat to protect the youngster. Your kitten looked at four weeks old much like it will look at maturity, so we can predict with considerable accuracy how it will look at a year old. Color changes occur throughout their lifetime mellowing and enriching with age. The centers of the large spots may "fall out" or get lighter, creating the much sought after two toned rosettes. The pattern of spots will remain the same.
The first week is critical to successful cat ownership. Equipment you will need:
Open litter box with fine sandy clumpable litter. We use clumpable litterthat has a light vs heavy fragrance, and does not have a lot of dust. For example, Tidy Cats.
Pooper scooper and plastic grocery bags. Scoop daily, as they will not use a dirty box. Wash and disinfect the litter box with 1 – 10 parts Clorox and water once a month. Be sure the kitten knows where the box is. If you have a multi-story home, put a litter box on each level while they are young.
A cat bed or a blanket assigned to be the kitten's bed. They love soft comfy fabrics and will not usually urinate on their bed. However, watch your comfy, fluffy, bedspread, fresh warm clothes from the dryer and fuzzy throw rugs when the kitten is young.
Food. To maintain your kitten's good health, feed a high protein (30% – 40%) dry kibble. Leave it out so they can eat at will. Avoid corn, wheat gluten, byproducts and grain. Good examples are Wellness, Taste of the Wild, Blue Buffalo, Innova, Mereck, and others. Check ingredients; first and second ingredients should be meat or fish. To maintain your kitten's weight while they are growing so fast and playing so hard, feed a canned food AM and PM.
Water. Fresh water is very important to avoid dehydration, urinary crystals, and kidney problems. A day old bowl of water is considered stale by a kitten and they will not drink much of it. Therefore it should be refreshed every day. Bengals love flowing water. You will find them drinking from the faucets when available. A good solution is to purchase a small water fountain where the water is circulated thru a filter and dropped off a small spout to a bowl. The fountain should be cleaned once a week.
Toys are essential to keep your kitten occupied and happy. They love balls and items that roll or bounce. There are many wonderful toys on the market for kittens. A toy at the end of a stick is a great way to play with your kitten to bond with them. Do not let them play with the stick toy alone; as they can jam the stick down their throat when running.
We train our kittens to a scratching post so they will not go to your furniture for their scratching needs. A carpeted post or sizzle rope post will do. They will also use the legs of a cat tree.
When you bring your kitten home, set up a small room with an easily cleanable floor. There will be small accidents at first; spilled water and urine perhaps. Provide a bed, litter box, food and water, scratching post and toys. Be sure to put the litter box on the opposite side of the room as food and water as they do not like eating near the box. If you will be at work much of the day, provide a TV or radio. The sound will make the kitten feel as though people are around. They will nap and play with anything that wiggles while you are gone. Put your valuables away. Be ready when you return home to provide a lot of time to your kitten.
Your kitten's tummy and hands are so inviting to tickle or pet. To prevent the habit of biting, do not play with or pet your kitten with your fingers. Pick up a small stuffed toy to play with them. They will bite on that and not on you!
It is important that you realize – and provide for – your kitten/cat's emotional needs. Bengals are very emotional cats. You will be amazed at the love and affection they have for you, the owner. They need attention, interaction, love, and affection from you to thrive.