What is a Stud?
A stud is a male cat that mates with queens so that they can have kittens.  Usually, a stud has more than one mate at a time, which is why you will see some of the same patterns on kittens. All of our studs are amazing boys, and some have participated in shows! Overall, every kitten inherits their beautiful patterns.
---
Supreme Grand Champion       

RETIRED AND FOR SALE




AspenGold Moon Shadow    IS SOLD!!!!!!
"Shadow" is a sweet and affectionate boy. His random pattern and his gold and dark brown colors are beautiful against his light beige background. He has distinctive eyebrows that he puts on all his kittens that we call "Groucho Marks Brows"!
---
BBBengals Lone Star of AspenGold
Lone Star came to us from BBBengals, Houston, TX. He was very shy when he arrived but has become comfortable here at AspenGold. His first litter of kittens has lovely patterns and colors.
---

MIRACLE HAS FOUND HIS FOREVER HOME AND HE IS ADORED!   WE ARE SO HAPPY FOR HIM!!
---

SNOWBALL OF ASPENGOLD
Snowball is simply a darling; He looks like a Snow Bengal teddy bear! He'll be a year old in October and he will begin his job of producing our new snow Bengal line.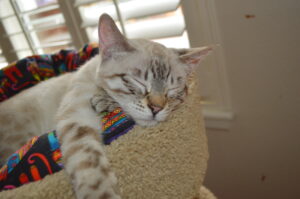 SNOWBALL  RELAXING
---
Silkenfur Sunshine of Aspengold      "Sunny"
DOB :  05/09/19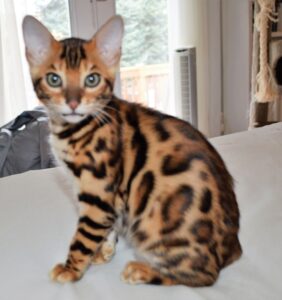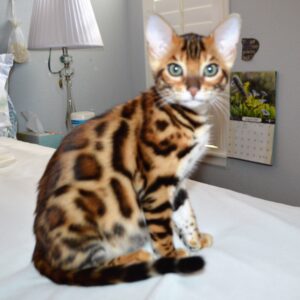 This is our newest stud boy. We loved his warm, rich colors and wanted to find a name to reflect those attributes.
We tossed around sunset names; Golden Sunset, Autumn Sunset, Beautiful Sunset, but nothing really hit us until our neighbor came over to see him and said, "You should call him Tequila Sunrise!"  We both said, "Oh yea, that's perfect!"   But I became uncomfortable going around the house calling, "Tequila, Tequila, where is my Tequila?  So we call him Sunny!
---