Table of contents:
                                                                             MELANISTIC BENGALS
                                                                             BROWN BENGALS
                                                                              SNOW BENGALS
                                                                              SILVER BENGALS
                                                                              BENGAL ADULTS FOR REHOMING/SALE
                                                                              TERMS
---
Melanistic Bengals
For us, the chance of getting a Melanistic Bengal is very rare.  We had one five years ago and now we have two!!  Totally unexpected, we were stunned to see two black kittens in our  birthing box.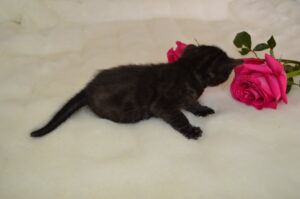 YOU CAN SEE, THESE KITTENS WITH BLUE EYES (TURNING IRIDESCENT GREEN, AND NOW GOLD ) ARE SO BLACK IT IS VERY DIFFICULT TO SEE THEIR BLACK SPOTS UNDER THEIR BLACK FUR. THE SPOTS ARE THERE, HOWEVER. "GENETICALLY, THE MELANISTIC COLOR IS A THIRD VARIATION ON THE AGOUTI GENE THAT IS DIFFERENT FROM THE COMMON GENE.  THE COLORING IS VERY CLOSE TO THE BLACK JAGUAR AS THE SPOTTING IS ONLY SEEN IN THE SUNLIGHT. IT IS A SUBTLE TRAIT FOR AN INDOOR CAT AND IS A GREAT ADVENTURE TO LIVE WITH A DOMESTIC CAT THAT REMINDS US OF THE GORGEOUS WILD CREATURES".  (TRAIPSE CHARCOAL BENGALS)
                        CAN YOU SEE THE ELUSIVE BLACK SPOTS UNDER HER BLACK FURRY COAT AND THE VERY IRIDESCENT GREEN EYES?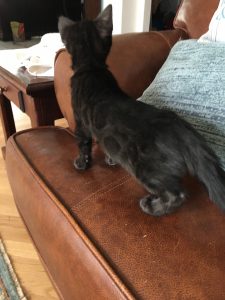 The melanistic kittens are in their forever   homes.
---
Brown Cats/Kittens
 WE SPECIALIZE IN BLACK/BROWN AND GOLDEN BROWN SPOTTED CATS AND KITTENS WITH OUTSTANDING ROSETTES (SPOTS WITH DARKER COLORED OUTLINES) AND GLITTER (GLIMMERING GOLD FLECKS IN THE FUR).
                                                                                                          EXAMPLE – MALE ADULT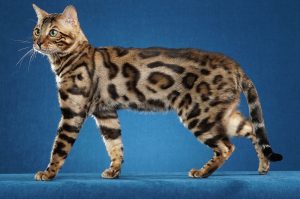 CURRENTLY, WE HAVE KITTENS AVAILABLE TO OUR WAITLIST PEOPLE 
WE WILL CONTACT YOU WHEN IT IS  YOUR TURN TO SELECT A KITTEN. CHOOSE ONE FROM THE PICS BELOW AND LET ME KNOW YOUR CHOICE. 
                                   ONCE A KITTEN HAS GONE HOME, WE WILL ELIMINATE THE PHOTO.
++++++++++++++++++++++++++++++++++++++++++++++++++++++++++++++++++
                                                        A
SPENGOLD BENGALS
                                              PRECIOUS GEM AND SUNNY LITTER  (3)
                                                                                DOB:  10/05/20
#1 FEMALE BROWN SPOTTED             RESERVED FOR JASON                           
                                                                                         #2 MALE BROWN SPOTTED
                                                                                         RESERVED FOR AIMEE
                                                                                                                                                                                                                                                                            FEMALE BROWN SPOTTED 
 Reserved for Noreen   
+++++++++++++++++++++++++++++++++++++++++++++++++++++++
ASPENGOLD BENGAlS
                                                 MARLEE AND SUNNY LITTER 
                                                      DOB: 10/11/20
                                                                                                                                                 MALE                                                                                                                                                                                                                    BROWN                                                                                                                                                                                                                    SPOTTED                                       

                                                                                          RESERVED FOR ERIC
 
                                                                                                                                                                                                              MALE MARBLE RESERVED FOR WHITNEY                                                                                                                                                                         
EXAMPLE Of  AN ADULT MARBLE BENGAL


                                                                                                                                        FEMALE MARBLE
                                                                                                                                    RESERVED FOR BLAKE AND                                                                                                                                                                                       JESSICA

FEMALE BROWN   SPOTTED     
RESERVED FOR LEXI 

                      

+++++++++++++++++

  TO RESERVE A
                                                   POWERHOUSE
                                                    OR GOLDENDOTS KITTEN  = SHOWN BELOW 
                                                   CALL JASON AT

720 375 2326
                                                     SIMBA AND ELVIRA LITTER
                                                                DOB:  08/22/20                                                   
 #2 

 

  SILVER SPOTTED MALE         "BRAVEHEART"       
                                   Reserved for Alexander                                       
A
vailable-CALL JASON 720 375   2326
         Ready to go home December 24TH!!!!!!!         

                                                                   

                                     BROWN  SPOTTED  FEMALE
AVAILABLE  call Jason
+++++++++++++++++++++++++++++++++++++++++++++++++++++++++++++++++++++++++
                                  SEAL LYNX POINT SPOTTED MALE
#4 
 

  EXCEPTIONAL      Seal Lynx Point Spotted  SNOW MALE       SHOW BOY
 RESERVED FOR RHONDA

+++++++++++++++++++++++++++++++++++++++++++++++++++++++++++++++++++++++++
---
                                                       ASPENGOLD
       RAINBOW AND SUNNY LITTER
                                                                     CALL JUDY @ 303 499 5491
                                                         DOB  10/31/20
                                                                5 KITTENS
#1.
AVAILABLE
BROWN SPOTTED FEMALE

#2
AVAILABLE
BROWN SPOTTED FEMALE
#3 
RESERVED FOR TINA
BROWN SPOTTED   MALE
#4    BROWN SPOTTED FEMALE     
RESERVED FOR JACKIE

#5    BROWN SPOTTED FEMALE     

    AVAILABLE

+++++++++++++++++++++++++++++++++++++++++++++++++++++++++++++++++++++++++
                    MOONGLOW AND SNOWBALL LITTER     DOB:  10/31/2               `
  #1 female       available                         #2 Male  RESERVED FOR TINA      
           
                                ALL THREE ARE SEAL  LYNX POINT SPOTTED  SNOWS
#3

      F     RESERVED FOR  IGOR                       
+++++++++++++++++++++++++++++++++++++++++++++++++++++++++++++++++++++++++
SNOWFLAKE AND MR WONDERFUL[      4     DOB:  11/17/20   GENDERS TBA
#1     female             
---
   When Snowflake went into labor today I put her in the birthing box I had prepared for her.  I stayed with her  to comfort and encourage her.
She hadn't delivered as yet when I went out of the room for a few minutes.  When I returned I found that Snowflake  had  settled herself in Moonglows birthing box along with the three  kittens that were born last week!
female #2

Everyone looked very comfy and happy, so I left her in there.
During the afternoon Snowflake delivered  4 beautiful snow kittens!  Everyone is snuggling and very comfy.  The kittens go to any number of teets to suckle.  They never had it so good!
                                                                       female

                                                                                                                       #3
#4  male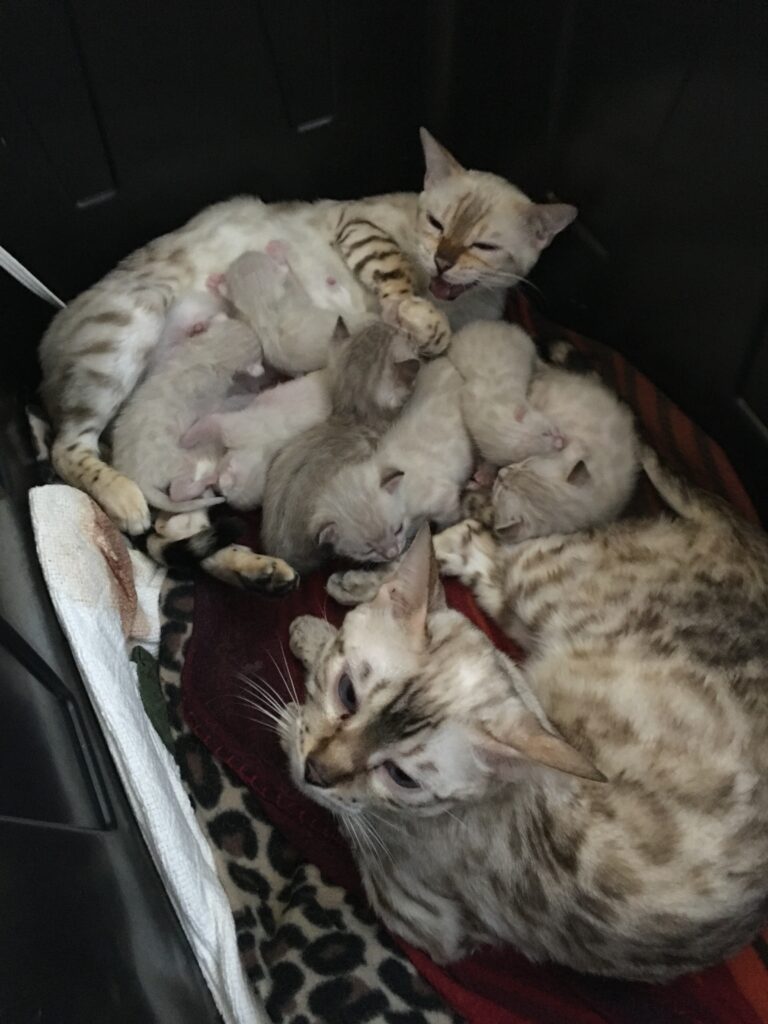 KITTEN PRICES
Brown Marble: $1400
Brown Spotted: $1600
Snows: $1800
Silvers: $1600
 Silver marbles:  $1400
 Exceptional Kittens   (Show quality as pet)  $1900
Breeders: $2500 – $3500
Show Cats: $2500 – $4500
Melanistic:  $2000
Terms
We sell show cats, breeders, and darling, lovable pets. We are always available to help with any questions that may arise.  Email us at [email protected] to indicate that you are interested in a Bengal cat/kitten. We will discuss what you are looking for, such as brown spotted, brown marble, and spotted and marble snows.  Your name will be put on our Wait List. When we have a kitten for you, we will send photos, and/or you can visit in person using Covid precautions (masks, and social distancing) to decide if you want to reserve it with a $500 NON REFUNDABLE deposit. The balance of the purchase price is due when you pick up your kitten. Kittens will be ready to be taken home after they are 11 -12 weeks old and are spayed and neutered!
ONLY established quality breeders can purchase breeder cats.  Breeder cats and show cats can be reserved with a $600 non-refundable deposit.
We socialize our kittens with our visitors and children in the 12 weeks they remain at AspenGold. The result is a friendly, confident, and loving cat that is a joy to own. It is important to us that we are assured that our cats/kittens will be safe, well cared for, and loved in their new homes AND that the owner is happy with the cat. Likewise, we are committed to providing accurate and complete information about our cats to you as requested.  We also like to be contacted if there is some reason your cat is not what you hoped it would be and also for any behavioral problems.
Our kittens/cats are sold with a written contract stating the rights of the buyer and the breeder. A health guarantee states the kitten is healthy when it leaves AspenGold and that if a cat or kitten develops a congenital problem it will either be brought to health or replaced. The fertility of breeding cats is guaranteed. Owners also receive a health record for your kitten and additional information. Cats/kittens that are sold as pets are spayed/neutered and micro-chipped.
---
Contact Us Today!
Please contact us anytime. We look forward to hearing from you. We can be reached at [email protected] or  at                                                                        303-499-5491
Visit us at 285 Warwick Pl, Castle Pines CO by appointment, please.
Judy & Jim Miers
407