How did you decide to start a Snow Bengal Program?
Last September we were presented with a  litter from Shadow and Gem.  Since we did not know each of these brown spotted cats carried for Snow, we were pleasantly surprised to see a snow Bengal kitten in the litter. She was a beautiful ball of white fur that had brilliant blue eyes. She looked so precious, and we named her Moonglow.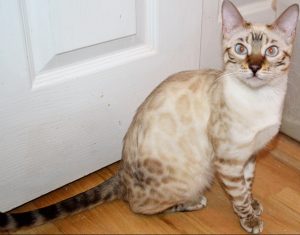 Very soon her tan markings began to appear very faintly. Every day she changed just a little bit more until our adorable white Snow baby kitten developed into a gorgeous regal looking adult girl. We adore Moonglow, and it didn't take too long before we decided to start a Snow Bengal program. We began an Internet search for the perfect stud for Moonglow and we found "Mr Wonderful" in Ohio. We quickly made arrangements to bring him to Aspengold.
Snowball is the cutest little guy, and like our other Snow Bengals he is so cuddly and affectionate.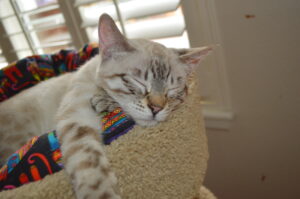 We can hardly wait to have Snow Bengal babies!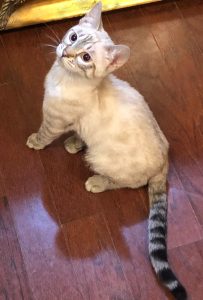 Meanwhile Gem and Shadow presented us with another litter, this time with two Snow kittens; one male and one female. Moonglow LOVES her Mama Gem, and she very much wanted to stay with her after Gem had this new litter. So, the birthing box included Mama Gem, the two brown spotted kittens, the two snow kittens, AND…. Moonglow!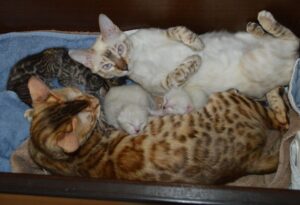 09/29/19   OUR FIRST SNOW BENGAL KITTENS HAVE ARRIVED!!!!        THERE ARE FOUR
SNOW KITTENS,  2 BOYS AND 2 GIRLS,