CATS/KITTENS
We specialize in black/brown and golden brown spotted cats and kittens with outstanding rosettes (spots with darker colored outlines) and glitter (glimmering gold flecks in the fur). We are also branching out to start producing Snow Bengals.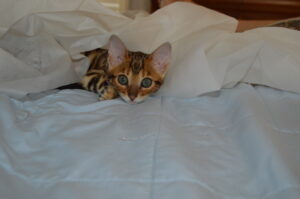 Kitten Prices
Brown Marble: $1200
Brown Spotted: $1400
Snows: $1600
Breeders: $2500 – $3500
Show Cats: $2500 – $4500
Exceptional Pets: $1800
Terms
We sell show cats, breeders, and darling pets. We are always available to help with any questions that may arise. Contact us at 303-499-5491 to indicate that you are interested in a Bengal cat/kitten. We will discuss what you are looking for, such as brown spotted, brown marble and spotted snows. After the discussion, we will invite you to come see the cats/kittens. You can reserve a pet kitten with a $400 non-refundable deposit, and kittens will be ready to be taken home after they are 12 weeks old! The balance (required price) is due at that time. If we don't have any kittens, we will put you on our wait list and contact you when we do. ONLY established quality breeders can buy breeder cats, and breeder cats and show cats can be reserved with a $600 non-refundable deposit.
We socialize our kittens with our visitors and children in the 12 weeks they remain at AspenGold. The result is a friendly, confident and loving cat that is a joy to own. It is important to us that we are assured that our cats/kittens will be safe, well cared for, and loved in their new homes AND that the owner is happy with the cat. Likewise, we are committed to providing accurate and complete information about us and our cats to you as requested.
Our kittens/cats are sold with a written contract stating the rights of the buyer and the breeder. A health guarantee states the kitten is healthy when it leaves AspenGold and that if a cat or kitten develops a congenital problem it will either be brought to health or replaced.  The fertility of breeding cats is guaranteed. Owners also receive pedigree papers, health records, and a pedigree chart. Cats/kittens that are sold as pets are spayed/neutered and microchipped.
Available Cats and Kittens
SNICKERS    
3 years old
Brown spotted Bengal with beautiful green eyes!
Sweet, lovable,  very majestic,  good size boy.  Loves to play with adults who swing toys to him.  He would love to find a home by Thanksgiving or Xmas!
Rainbow and Miracle litter  –  Born 10/17/19   These babies have their Daddy's coloring; brown/black with gold glitter thru out their coat.  A few of them also carry their Momma's  gold  head and some down their back.      Beautiful babies!                      Call to come see them and pick  out yours!
They will go home January 4-5, 2020
Marley and Lonestar Litter – Born 10/25/19  These six kittens are extraordinary!!  Three have been reserved by Bengal Breeders.  There are two females and one male yet to be reserved.  These kittens will be priced as "Exceptional Pet" Prices of $1800.  
   EXAMPLES OF Marley's and Lonestar's KITTENS
OUR FIRST SNOW BENGAL LITTER!!!
Moonglow + Snowball.      
WE ARE BORN!!!!!! 09/29/19    There are three of us, 2 boys and 1 girl. We have a wait list for these kittens and for future snow kittens. All these kittens are reserved by those who waited!
female one – Jason.       male one – Myeesha.           male two – Mollie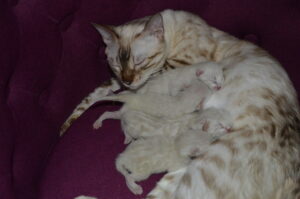 Expected Litters:
Tubby + Shadow, due Nov 14
Gem and Shadow,  due Nov 22
Velvet and Shadow,  due Dec 3
Contact Us Today!
Please contact us anytime. We look forward to hearing from you.
We can be reached at 303-499-5491
Visit us at 285 Warwick Pl, Castle Pines CO
Judy & Jim Miers