Table of contents:
   MELANISTIC BENGALS
 BROWN  BENGALS
 SNOW   BENGALS
                                                          KITTEN PRICES
  SILVER   BENGALS
                                          BENGAL ADULTS FOR SALE
---
                    Melanistic Bengals
For us, the chance of getting a Melanistic Bengal is very rare.  We had one five years ago and now we have two!!  Totally unexpected, we were stunned to see two black kittens in our birthing box.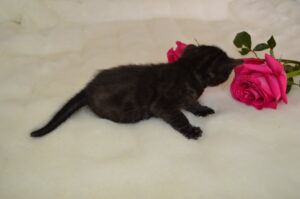 You can see, these kittens with blue eyes (turning iridescent green, and now gold ) are SO black it is very difficult to see their black spots under their black fur. The spots are there, however. "Genetically, the melanistic color is a third variation on the Agouti Gene that is different from the common gene.  The coloring is very close to the Black Jaguar as the spotting is only seen in the sunlight. It is a subtle trait for an indoor cat and is a great adventure to live with a domestic cat that reminds us of the gorgeous wild creatures".  (Traipse Charcoal Bengals)
Can you see the elusive black spots under her black furry coat and the very iridescent green eyes?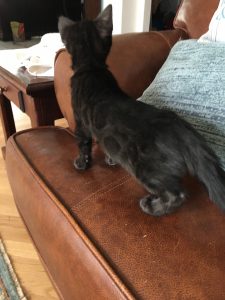 BOTH  Melanistic kittens are in their forever homes.
---
BROWN Cats/Kittens                         
 We specialize in black/brown and golden brown spotted cats and kittens with outstanding rosettes (spots with darker colored outlines) and glitter (glimmering gold flecks in the fur).
EXAMPLES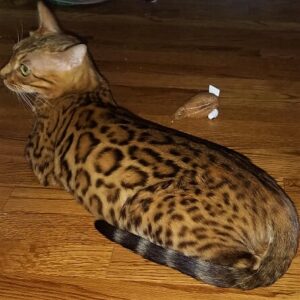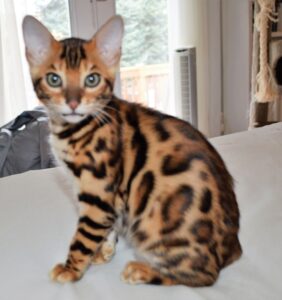 CURRENT KITTENS (7) AVAILABLE TO OUR                             

 WAIT LIST PEOPLE
WE WILL CALL YOU WHEN IT IS  YOUR TURN TO SELECT A KITTEN.   CHOOSE ONE FROM THE PICS BELOW AND LET ME KNOW YOUR CHOICE. 
                  KATY'S BROWN SPOTTED                                                                             MALE
                                                                         RESERVED FOR HARRISON  KATY'S BROWN MARBLE                                                                                        
AVAILABLE
KATY'S  #1   
BROWN SPOTTED FEMALE
RESERVED FOR COLLEEN AND NATASHA
 KATY'S  #2 BROWN SPOTTED 
        FEMALE
RESERVED FOR DEB
JASON'S BOYS / BOTH ARE EXCEPTIONAL
THIS LITTLE GUY IS  VERY FUZZY: HARDER TO SEE HIS PATTERN
     RESERVED FOR KIM
HE WILL CLEAR UP SOON AND LOOK AS BEAUTIFUL AS HIS BROTHER
EXCEPTIONAL MALE BROWN SPOTTED            RESERVED FOR NIKOLE
BOTH ARE SELLING AS EXCEPTIONAL PETS
SNOW BENGALS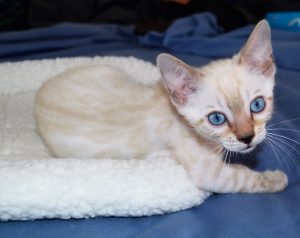 EXAMPLE
Seal Lynx Point Snow kitten with Blue, Blue eyes.
RESERVED FOR RHONDA
OUR Seal lynx point marble Bengal  –  STILL DEVELOPING
KITTEN PRICES
Brown Marble: $1400
Brown Spotted: $1600
Snows: $1800
Silvers: $1600
Breeders: $2500 – $3500
Show Cats: $2500 – $4500
Melanistic:  $2000
Exceptional Pets: $1900  (show quality as a pet)
Terms
We sell show cats, breeders, and darling, lovable pets. We are always available to help with any questions that may arise.  Email us at :                                                                                                                                [email protected]
to indicate that you are interested in a Bengal cat/kitten. We will discuss what you are looking for, such as brown spotted, brown marble, and spotted and marble snows.  Your name will be put on our Wait List   When we have a kitten for you, we will send photos and/or you can visit in person using Covid precautions; masks and social  distancing techniques  to decide if you want to reserve it with a $500 NON REFUNDABLE deposit.   The balance of the purchase price is due when you pick up your kitten.   Kittens will be ready to be taken home after they are 11 -12 weeks old and are spayed and neutered!
ONLY established quality breeders can purchase breeder cats.  Breeder cats and show cats can be reserved with a $600 non-refundable deposit.
We socialize our kittens with our visitors and children in the 12 weeks they remain at AspenGold. The result is a friendly, confident, and loving cat that is a joy to own. It is important to us that we are assured that our cats/kittens will be safe, well cared for, and loved in their new homes AND that the owner is happy with the cat. Likewise, we are committed to providing accurate and complete information about our cats to you as requested.  We also like to be contacted if there is some reason your cat is not what you hoped it would be and also for any behavioral problems.
Our kittens/cats are sold with a written contract stating the rights of the buyer and the breeder. A health guarantee states the kitten is healthy when it leaves AspenGold and that if a cat or kitten develops a congenital problem it will either be brought to health or replaced.  The fertility of breeding cats is guaranteed. Owners also receive a health record for your kitten and additional information.  Cats/kittens that are sold as pets are spayed/neutered and micro-chipped.
 ++++++++++++++++++++++++++++++++
       Have you ever seen a Silver

Bengal?

  
         They

 are usually light gray background with black markings.
However, they can vary quite a bit in shading and in markings.
               

   WE PLAN TO BREED SOME IN THE FALL
                HERE ARE SOME FROM OUR LAST LITTER OF SILVERS


                                      ++++++++++++++++++++++++++++++++
BENGAL ADULTS FOR SALE
BBBENGALS LONE STAR OF ASPENGOLD
LONESTAR IS BEING RETIRED AFTER A VERY SUCCESSFUL BREEDING CAREER AT ASPENGOLD
                        HE IS TWO YEARS OLD                         

 Placed
WE ARE RETIRING LONE STAR SO HE CAN BELONG TO A LOVING FAMILY THAT WILL  GIVE HIM ALL THE AFFECTION, SUPPORT AND UNDERSTANDING HE DESERVES, …… AND BRING OUT EVERYTHING LONE STAR IS CAPABLE OF.  IT WILL TAKE SPECIAL PEOPLE TO SHOW HIM PATIENCE AND UNCONDITIONAL LOVE WHILE THEY ALLOW HIM TO GET OVER HIS FEARS, INSECURITIES, AND SHYNESS.   HE HOLDS SO MUCH POTENTIAL.
++++++++++++++++++++++
++++++++++
FUTURE LITTERS:
 

 JUST BRED: 
   MARLEE AND SUNSHINE
   TUBBY AND SUNSHINE       ALL WILL BE DUE EARLY OCTOBER
   GEM AND SUNSHINE
---
Contact Us Today!
Please contact us anytime. We look forward to hearing from you. We can be reached at [email protected] or  at 303-499-5491
Visit us at 285 Warwick Pl, Castle Pines CO by appointment, please.
Judy & Jim Miers