It is with a grateful heart that we thank everyone for their interest in an Aspengold Bengal kitten. However, the demand has become so "over the top"  that we cannot possibly meet everyone's desire to have a Bengal kitten. We are no longer taking contact info for a waitlist spot, as we have 5 pages of an 8 1/2 X 11″ pad full of names now. We can not possibly produce enough kittens to meet the desires of the public.  
---
---

                                                                       Meet:  Our Rare and Glorious
                                                    "Mini Jaguars"
---
                            Melanistic Bengals
For us, the chance of getting a Melanistic Bengal is very rare.  We had one five years ago and now we have two!!  Totally unexpected, we were stunned to see two black kittens in our birthing box.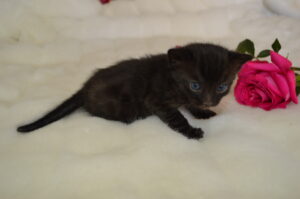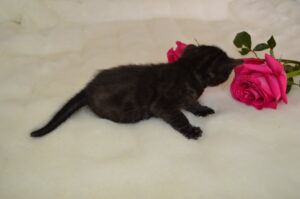 As you can see, these kittens with blue eyes (turning iridescent green) are SO black it is very difficult to see their black spots under their black fur. They are there, however. "Genetically, the melanistic color is a third variation on the Agouti Gene that is different from the common gene.  The coloring is very close to the Black Jaguar as the spotting is only seen in the sunlight. It is a subtle trait for an indoor cat and is a great adventure to live with a domestic cat that reminds us of the gorgeous wild creatures".  (Traipse Charcoal Bengals)
Can you see the elusive black spots under her black furry coat and the very iridescent green eyes?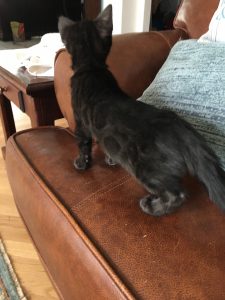 BOTH  Melanistic kittens are reserved!
---
Our Usual Cats/Kittens                         
 We specialize in black/brown and golden brown spotted cats and kittens with outstanding rosettes (spots with darker colored outlines) and glitter (glimmering gold flecks in the fur). In addition, we are branching out to start producing Snow Bengals.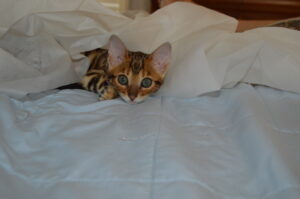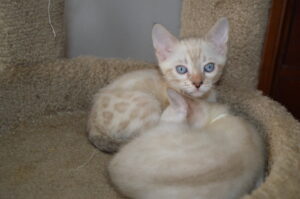 Kitten Prices
Brown Marble: $1200
Brown Spotted: $1500
Snows: $1600
Silvers: $1500
Breeders: $2500 – $3500
Show Cats: $2500 – $4500
Melanistic:  $2000
Exceptional Pets: $1800  (show quality as a pet)
Terms
We sell show cats, breeders, and darling, lovable pets. We are always available to help with any questions that may arise. Contact us at 303-499-5491 to indicate that you are interested in a Bengal cat/kitten. We will discuss what you are looking for, such as brown spotted, brown marble, and spotted snows. After the discussion, we will direct you to our website where you can see all the available cats/kittens.  If you see one you like, you can RESERVE it by phone and a deposit or if you would rather, you can stop by to see the kitten using social distancing techniques and decide if you want to reserve it with a $500 NON REFUNDABLE deposit.   The balance of the purchase price is due when you pick up your kitten.   Kittens will be ready to be taken home after they are 11 -12 weeks old and are spayed and neutered!  If we don't have any kittens, we will put you on our waitlist and contact you when we do.
ONLY established quality breeders can purchase breeder cats.  Breeder cats and show cats can be reserved with a $600 non-refundable deposit.
We socialize our kittens with our visitors and children in the 12 weeks they remain at AspenGold. The result is a friendly, confident, and loving cat that is a joy to own. It is important to us that we are assured that our cats/kittens will be safe, well cared for, and loved in their new homes AND that the owner is happy with the cat. Likewise, we are committed to providing accurate and complete information about our cats to you as requested.
Our kittens/cats are sold with a written contract stating the rights of the buyer and the breeder. A health guarantee states the kitten is healthy when it leaves AspenGold and that if a cat or kitten develops a congenital problem it will either be brought to health or replaced.  The fertility of breeding cats is guaranteed. Owners also receive a health record for your kitten and additional information.  Cats/kittens that are sold as pets are spayed/neutered and micro-chipped.
---
++++++++++++++++++++++++++++++++++++++++++++++++++++++++++++
FOR SALE:  VERY SPECIAL OFFERING
      
ONE OF A KIND – BRED TO LOOK LIKE THE WILD EARLY GENERATION BENGALS, BUT WITH THE TEMPERAMENT OF THE DOMESTIC BENGAL;  GENTLE AND FRIENDLY,  LOVES KIDS, GENTLE DOGS, AND OTHER FRIENDLY CATS.  SHE IS A "FOLLOW YOU AROUND CAT". 
PURCHASED as a breeder, she has fertility issues and cannot produce kittens. She is 1  1/2 yrs old
Her pattern & colors are magnificent and mimic those of the early generation Bengal cats;F1 – F4.  Her Sea Foam colored eyes are incredible and one can "get lost" in them.   She is unique, beautiful, and very loving.  One of a kind!   Her purchase price is $ 3000 or best offer.
+++++++++++++++++++++++++++++++++++++++++++++++++++++++++++++++++++++++
SNOWFLAKE AND SNOWBALL PRESENTED US WITH FOUR SNOW BENGALS ON JULY 5TH.  THEY ARE ALL PINK AND WHITE AND PRECIOUS!!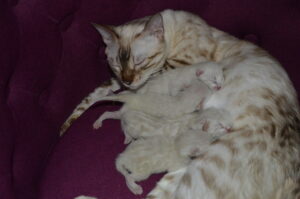 GENDERS TBA
THESE BABIES WILL GO TO OUR SNOW BENGAL LOVERS ON OUR WAITLIST.
+++++++++++++++++++++++++++++++++++++++++++++++++++++++++++++++++++++++
Marlee (Sunshine) delivered 7 kittens on Saturday, April 25th. I knew these kittens would be beautiful, but they might be the most beautiful we've ever had! We have 6 brown spotted kittens and 1 marble coated kitten. There are four males and three females.
Since they are so stunning, they will be sold as breeders, show cats, and/or exceptional pets.
                                             ALL OF MARLEE'S KITTENS ARE RESERVED.
                                                                                 
---
Welcome to Gem's kittens! She delivered three brown spotted kittens on the 28th of May.
We look forward to preparing these kittens to go home mid-July.

 
                                             ALL OF GEM'S KITTENS ARE RESERVED.
---
    Have you ever seen a Silver Bengal?
They are usually light gray background with black markings.
However, they can vary quite a bit in shading and in markings.
Our friend and fellow Bengal breeder, Jason Power of Powerhouse Bengals has been mentoring with us for over a year. He has brought us six awesome Silver Bengal kittens from his Dam Jaki Elvira and Stud Mirabel Leon to offer to you!
                        We can vouch for the quality and health of his kittens.  They are selling for $1500
                                            ALL OF THE SILVERS ARE RESERVED.
FUTURE LITTERS:
         

    Snowflake and Snowball |  Due July 4th          |  Snow
            Moonglow and Snowball |  Due August 16th  |  Snow
---
Contact Us Today!
Please contact us anytime. We look forward to hearing from you. We can be reached at [email protected] or  at 303-499-5491
Visit us at 285 Warwick Pl, Castle Pines CO by appointment, please.
Judy & Jim Miers